Well, here we are again. Another year into the pandemic, and business is (still) booming!
Thankfully, with the easing of restrictions around interstate travel and large gatherings, we are now seeing the return of trade shows and events across all segments of the automotive aftermarket. And if the Brisbane edition of the National 4WD and Outdoors Show held in March is any indication of things to come – with just shy of 30,000 visitors in attendance – it's going to be a fantastic year for any business involved in 4WD accessories and modification.
After a three year break, the Australian Auto Aftermarket Expo returned in April with a renewed energy and many new features, including the debut of the new 4WD Innovation Zone – a dedicated area within the expo showcasing the latest in 4WD products.
A trade-focused show, the AAAE provided the perfect platform for businesses to connect with new and existing distributors and fitters from around the country, and to explore new business opportunities. We were extremely fortunate to have Justin Hocevar, Head of Asia Pacific Region for Ineos Automotive, attend a special networking event for AAAA sub-council members, where he enlightened attendees to their unique approach to not only the development of the vehicles, but also their openness to working with Australian aftermarket accessory manufacturers. It was refreshing to hear an OEM acknowleding the engineering expertise and brand equity that exists within our aftermarket sector, and we are grateful to Justin for sharing his insights with us.
Readers may have seen some activity around 4WD accessories training over the past 12 months. There has, in fact, been a great deal of work happening behind the scenes to address the industry need for relevant, accessible, nationally recognised training and accreditation.
The 4WD industry Council has been working very closely with the Kangan Institute to develop a new, industry-led pilot program, delivered initially to a group of Melbourne-based students. The pilot program was based upon a Cert II in Automotive Service Technology, with additional 'industry session' classes delivered by leading 4WD accessory businesses on subjects such as lithium batteries, power management systems, enhanced suspension and frontal protection.
We are extremely pleased to be able to share that the students of the pilot have now completed their studies, and were invited to attend a graduation ceremony at the Auto Innovation Centre where they were presented with certificates from both the Kangan Institute and the 4WD Industry Council.
Alongside the rollout of the pilot program, 4WDIC committee members were concurrently working with the Industry Reference Committee consulting with Price Waterhouse Coopers as part of a project to review the existing curriculum and to develop new units of competency to offer within a new, national Cert II qualification.
We are extremely pleased to see the Cert II in Automotive Accessory Fitting (AUR22021) has now been officially released, with newly created units covering, for example, frontal protection and enhanced suspension systems. In order for the course to become available to prospective students however, training providers need scale up to deliver the course, which involves not only ensuring all adequate resources are available and teaching staff are trained in the new curriculum, but also involves building the business case to make this investment in order to deliver the course.
That is to say, it is time to demonstrate to our RTOs just how much demand there is for this qualification. The pilot program was an important first step and we need to keep up the momentum. The 4WD Industry Council committee will be pulling every string we can. If your business needs this qualification, get in touch with me and let me know so we can make sure your voice is heard.
A quick update on some of the technical and regulatory work currently on the table: although progress has been made with the GCM Modification Code being developed in consultation with QLD, NSW and Victorian Departments of Transport, the draft codes we have seen to date have missed the mark and we continue to negotiate for an optimal outcome for industry and consumers.
Work also continues in the ADAS (Advanced Driver Assist Systems) Technical Working Group on the development of a verification procedure for modified vehicles. The Technical Working Group has sponsored the purchase of specialist test equipment and engaged Luke Truskinger from the Auto Innovation Centre to conduct testing.  The intent here is the delivery of an industry-led solution that demonstrates the safe functional parameters within which our manufacturers can operate.  Test results and a draft protocol will be used as the foundation for discussions with State and Federal Vehicle Modification regulators.
The committee farewelled a number of members last year as they moved on to new roles, stepping down from their committee positions. We'd like to take this opportunity to acknowledge the support and dedication of Gordon Scott-Worthington (ex-Hella), Matt Frost (ex-ARB), and Ben Lavis (ex- GPC Asia Pacific, and Chairman of the 4WD Industry Council). We wish them all the best in the next phases of their careers. The biennial committee election is being held in June, with an internal committee vote to appoint the new Chairman to follow shortly thereafter.
As life and business returns to normal, albeit a slightly modified version, the committee and I look forward to once again hosting our regular networking events, returning to the National 4×4 Outdoors Show in Melbourne this August, followed by the 4WD and Adventure Shows in Sydney, Adelaide, and Perth. We hope to see you there!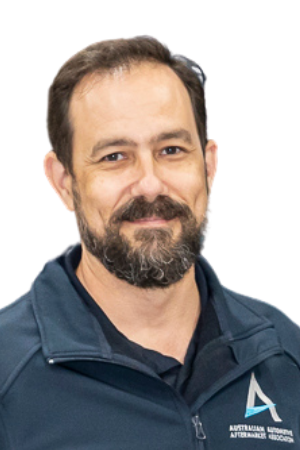 This article was originally published in the 2022 4WD Special magazine